Apple quantum is a leader in delivering software for digital content creation and management, Apple is known throughout media & entertainment, education, and other verticals for its Final Cut products and Xsan file system.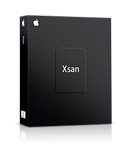 Xsan is software that enables multiple Mac computers to concurrently access terabytes — even petabytes — of storage on Xserve RAID over high-speed Fibre Channel so artists can share data faster and consolidate storage. Quantum supplements this solution with StorNext FX, data management software that enables Apple Quantum customers to attach applications running on Windows, Linux, and UNIX to their Xsan and share content across more systems.
Perfect for:
Broadcast & Film Post
Film Restoration
Video Game Creation
Animation

Digital Imaging
Content Distribution
Pre-Press
Education

Together, Apple and Quantum enable users to create award winning content faster and eliminate bottlenecks in the creative process. Benefits include:
Streamlined workflows - Eliminates the slow, often manual, data transfers between your Xsan users and other creative staff. Now Final Cut, Autodesk, Adobe, Telestream, and other applications can easily shares the same data set.
Faster content access - Leverages SAN connectivity to Xserve RAID to deliver high speed, low latency access to data.
Increased storage consolidation - Allows more systems to store data onto and use Xserve RAID, increasing utilization levels and preventing the need for un-needed storage purchases.
User-friendly - Simple installation, works seamlessly with Xsan.
Broad OS support – Allows you to use practically any application with Xsan whether they run on Windows, Red Hat, SuSE, Irix, Solaris, AIX, or HP-UX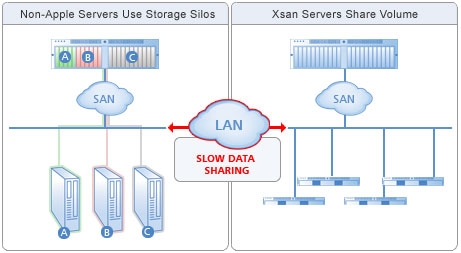 Xsan Before StorNext FX

Xsan with StorNext FX
Content Protection and Digital Archiving
Re-creating digital intermediaries, animation, digital images and other media files is painful if not impossible. Customers can eliminate the need to go back to source tapes or re-create content by using StorNext Storage Manager with Xsan. Using Quantum's iMover technology, StorNext Storage Manager automatically creates copies of your digital assets on secondary storage for data protection and disaster recovery. The Storage Manager supports disk, tape, and disk with de-duplication so you can get the performance and offsite storage capabilities that are right for your needs.
In addition to data protection, Storage Manager can also be used to move files from primary disk to more cost-effective archive tiers. StorNext virtualizes storage tiers so that data movement is non-disruptive and staff never has to worry about where data is located. In the end, you get the cost savings of mass storage without the hassle and delays of going back to source tapes when you need to access content.